MEDIVRx TECHNOLOGY SOLUTION
MEDIVRx TECHNOLOGY SOLUTION
MediVRx is designed specifically to employ virtual reality for medicine, maximizing the technology to elevate healthcare education to a fun and effective experience — and track the results. Whether you're educating patients or training HCPs and staff, MediVRx can engage, review, reinforce, entertain, and improve results for learning and retention.
REAL TIME ANALYTICAL PLATFORM
REAL TIME ANALYTICAL PLATFORM
The MediVRx dashboard provides real-time data analytics that lets you know how users are progressing.
activity tracking within the platform lets you track:
Number and length of sessions.
Progress toward completion.
Time on task.
Responses to assessments.
Duration for each response.
Interactions during collaborative sessions.
User feedback via survey questions.
Once the data is captured there is a customizable web dashboard interface available to our clients. This contains a full compliment of functionality to analyze data into a variety of reports.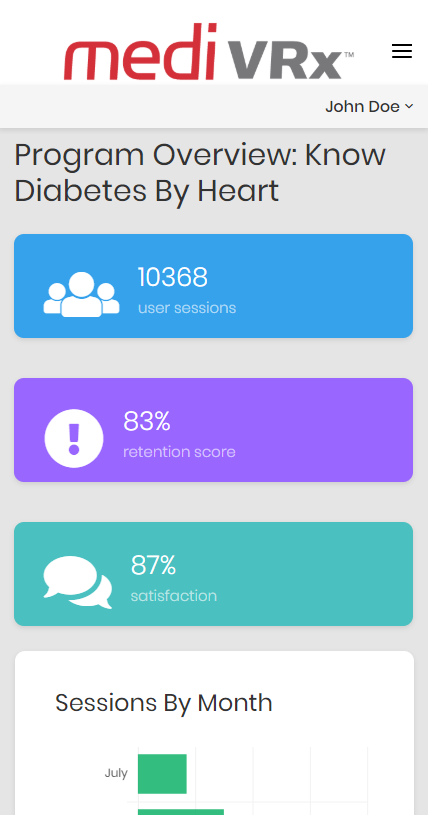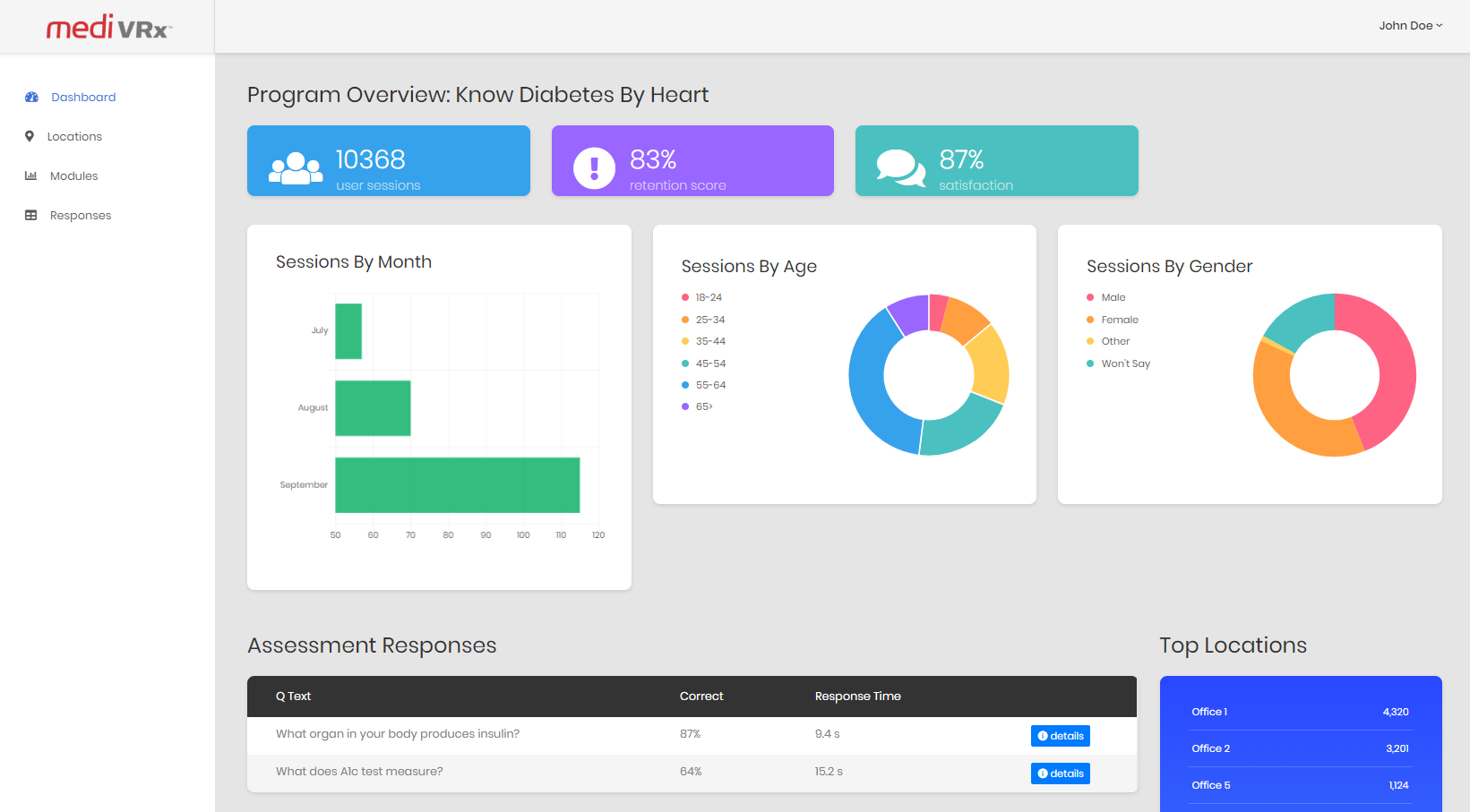 Each immersive education experience in MediVRx is tailored to meet the specific goals of each use case. The platform is flexible, modifiable, and easily customized using new content or repurposing materials from a client's existing repository. Experienced in the regulatory process, our team includes storyboard artists, medical strategists, copywriters, medical illustrators, and 3D animators. We collaborate with every client to create realistic simulations that optimize the benefits of using virtual reality in education.
Virtual reality (VR) places the user in an immersive simulated environment. We have found tremendous opportunities to implement VR in medicine for education and training, which have proven valuable and improve both medical care and surgical procedures.
virtual reality delivers:
Immersive stereoscopic visuals and audio experienced from the viewer's perspective.
Scenarios and journeys that replace the viewer's reality with computer-generated models, stereoscopic 360° video, or both.
A handheld controller and head-tracking capacity that let the user interact realistically with the created environment.
Augmented reality (AR) overlays digitally created content onto real-word experiences using a camera-enabled device such as a smartphone.
augmented reality delivers:
Computer-generated images and data that are superimposed onto an object or location to appear to exist in the real world.
The opportunity to alter the user's visual environment, such as adding signs or simulating a visual impairment.

Harness the power of VR and AR
to deliver immersive education in healthcare
and help drive improved outcomes.

Harness the power of VR and AR
to deliver immersive education in healthcare and help drive improved outcomes.